RUGBY WORLD CUP JAPAN 2019
RUGBY WORLD CUP JAPAN 2019
2019.08.24

Japan will host Rugby World Cup 2019.
It will start September 20th 2019.
Tokyo stadium will host opening ceremony and some games.
There will be a place called "FANZONE" where fans from all over the world can enjoy the exiting atmosphere.
Fanzones will have live viewing of games on screen, some activities, and food & drinks.
Entry is for free.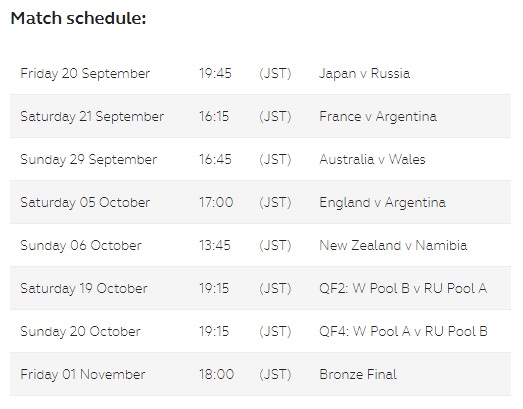 Tokyo stadium is located 30 minutes by train (KEIO LINE) from Shinjuku.
Get on the train at SHINUKU station and get off at TOBITAKYU STATION.
If you walk about 5 minutes, you will see it.
It is very easy access from Shinjuku.
IF YOU ARE PLANNING TO VISIT JAPAN FOR RUGBY WORLD CUP,
WE ARE LOOKING FORWARD TO SEEING YOU IN SEPTEMBER!