ENJOY KARUIZAWA WALKING -one day trip to summer resort-
ENJOY KARUIZAWA WALKING -one day trip to summer resort-
2019.06.24

If you are planning to go to one day trip, Karuizawa is one of the best destination for people who love beautiful mountainous views, serene nature and curious history.
Karuizawa is known as summer resort.
Japan is so hot and uncomfortably humid in summer but Karuizawa has comfortable climate.  Karuizawa is in the south-eastern part of Nagano Prefecture where is located about 70 minutes from Tokyo by Shinkansen. The fare is about 6000 yen/one way.
I highly recommend bicycle if you are going to see around because There is some distance between sightseeing spots. Many rental shops are around station. You can just go and rent it or some shops accept reservation.
KyuKaruizaws Ginza street is one of the most popular spot in Karuizawa. There are many shops and cafe along the street.
Jam and honey are local specialties. You can find in many shops offer it in multiple flavors.  My favorite is raspberry.  The end of street, there is the Shaw Memorial Church, founded in 1895 A.C. Shaw, who popularized Karuizawa as a vacation destination.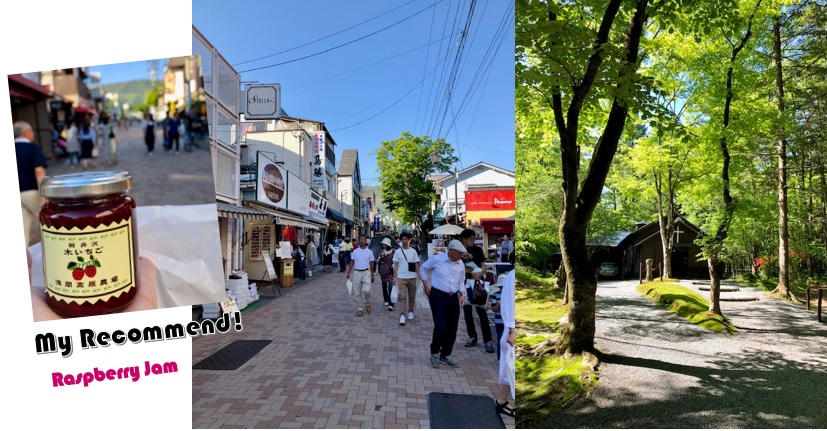 Next stop is KyuMikasa Hotel.
On the way to go there, there is a street lined with pine trees. It is so beautiful, and so fun cycling between theses trees. Finally, you will find KyuMikasa Hotel which is Important Cultural Properties (nationally designated).
The hotel was western style built of wood in the late Meiji Period designed and constructed by Japanese people. If you pay entrance fee, you can go inside and look around their interior and furniture at that time.
It feels like you went back time to past.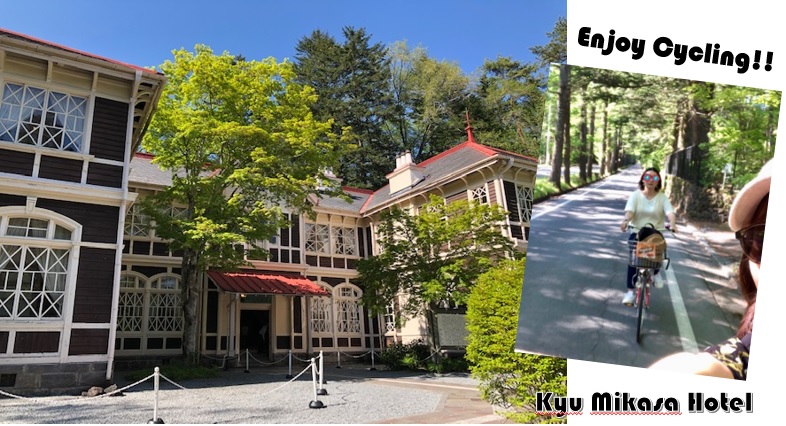 After you touched historical culture, let's go to Kumoba ike(pond) and feel the nature.
When there is no wind, he surface of the pond shows landscape like mirror.
It is a good photo spot.
Since Karuizawa is located in the highlands, you can enjoy fresh green leaves in summer and tinted autumnal leaves in fall.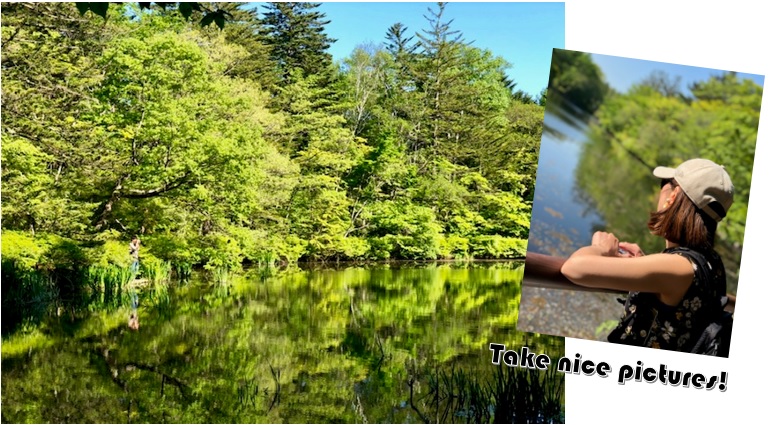 There are so many other attractive places in Karuizawa.
You can enjoy snow boarding and skiing.
There are hot springs too.
If you have chance, please visit Karuizawa.