ENJOY SHINJUKU WALKING ~Autumn Leaves~
ENJOY SHINJUKU WALKING ~Autumn Leaves~
2019.09.24

Autumn in Japan is famous for autumn leaves.
Today, I will introduce you popular place for autumn leaves in Tokyo.
First place is Shijuku Gyoen Park.
It is placed in Shinjuku.
If you don't have much time, you can go there.
It is about 120 min walking from KADOYA HOTEL, and 15 min walking from Shinjuku Station.
Shinjuku Gyoen Park is really a big park which has several type of garden such as French, English, and Japanese.
You can see different style of autumn leaves in each garden.
You can also enjoy rose in French garden in this time of year.
[SHINGUKU GYOEN PARK]
Open Hour: 9am-4pm
Addmition fee: Adults 500 yen
Address: 11 Naito-machi, Shinjuku-ku, Tokyo 160-0014, Japan
Access: JR Sobu Line, Sendagaya Station
Metro Marunouchi Line, Shinjuku Gyoen Station Exit 1
Shinjuku WE bus(community bus) Shinjuku Gyoen stop
Offeical Home Page: Shinjuku Gyoen Park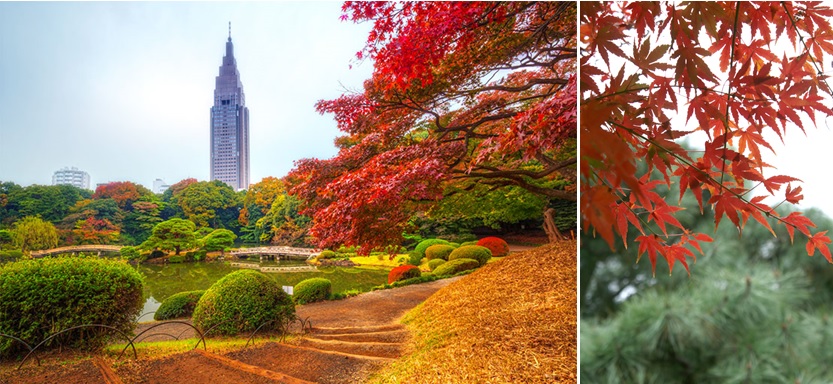 Second place is KOISHIKAWA KORAKUEN
It is placed next to Tokyo Dome.
Koishikawa Korakuen is one of Tokyo's oldest Japanese style garden which is built in Edo period (1600-1867) .
[KOISHIKAWA KORAKUEN GAEDEN]
Open Hour: 9am-5pm
Addmition fee: Adults 300 yen
Address: 1-6-6 Korakuen, Bunkyo-ku, Tokkyo 112-0004, Japan
Access: JR Sobu Line, Iidabashi Station East exit
Offeical Home Page: KOISHIKAWA KORAKUEN GARDEN

Third place is JINGU GAIEN
The full name of Gaien is Meiji Jingu Gaien Park. It is a part of the Meiji Jingu Shrine. but the park is not located next to Meiji Jingu Shrine. Meiji-Jingu is the traditional shrine of Japan, but Gaien is more like a park. If you have time, you should go to both places. There are trees on each side of the street. The autumn leaf season is extremely beautiful.
[JINGU GAIEN Festival]
Festival : Nov 15th – Dec 1st
Addmition fee: Free
Address: Kasumigaokamachi, Shinjuku City, Tokyo Japan
Access: JR Sobu Line, Shinano Machi Station East exit
Article: Meiji Jingu Gaien Ginkgo Festival 2019