Enjoy Shinjuku walking~Eat, Drink and Dance!! What a fun place!~
Enjoy Shinjuku walking~Eat, Drink and Dance!! What a fun place!~
2019.12.28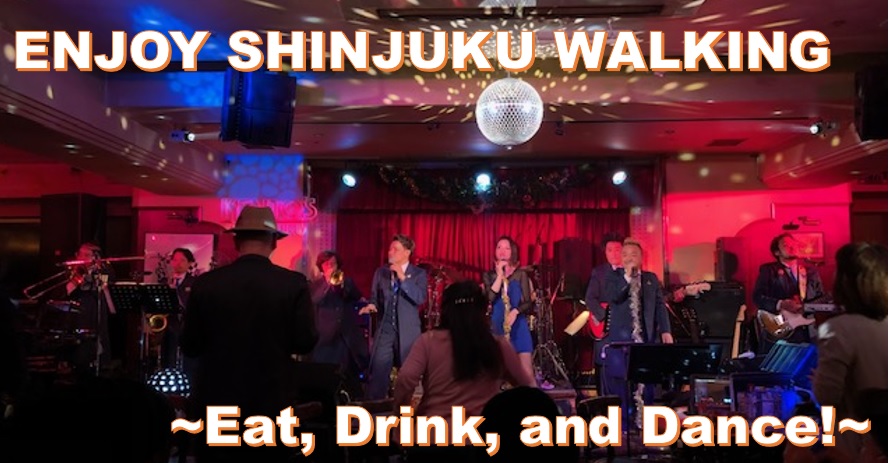 Today I would like to introduce a fun place which I found last week in Kabukicho.
World famous "Kabukicho" is a down town in Shinjuku, where is located 10 min walking from KADOYA HOTEL.
The fun place is called "Shinjuku Kento's".
It is a live house where you can enjoy energetic live performances with great food and drinks.
They play disco R&B and soul classic from 70's and 80's every night.
The band makes the atmosphere happy and relaxed, many people got up to dance.
The house band is really great.
Kentos is really crowded in the weekend.
If you are planning to go there in the weekend, it is better to book table in advance, so you wouldn't waste your precious time.
Enjoy your night in Shinjuku!
<Open Hours>
Monday~Saturday, Holiday Eve 6:00 pm ~ 2:00 am
Sunday and Holiday 6:00 pm ~ 11:30 am
<System>
Music Charge=(Entrance fee)  2000 yen  (Dec 1st~31st 2500 yen)
Service Charge 10%  (0:00am ~ 20%)
Drink 500 yen ~
Food 500 yen ~
<Show Time>
Monday-Saturday, and Holiday Eve
1st 7:20 pm-/2nd 8:20 pm – /3rd 9:20 pm -/4th 10:30 pm – /5th 11:50 pm -/6th 1:00 am –
Sunday and Holiday
1st 7:20 pm-/2nd 8:20 pm – /3rd 9:20 pm -/4th 10:40 pm –